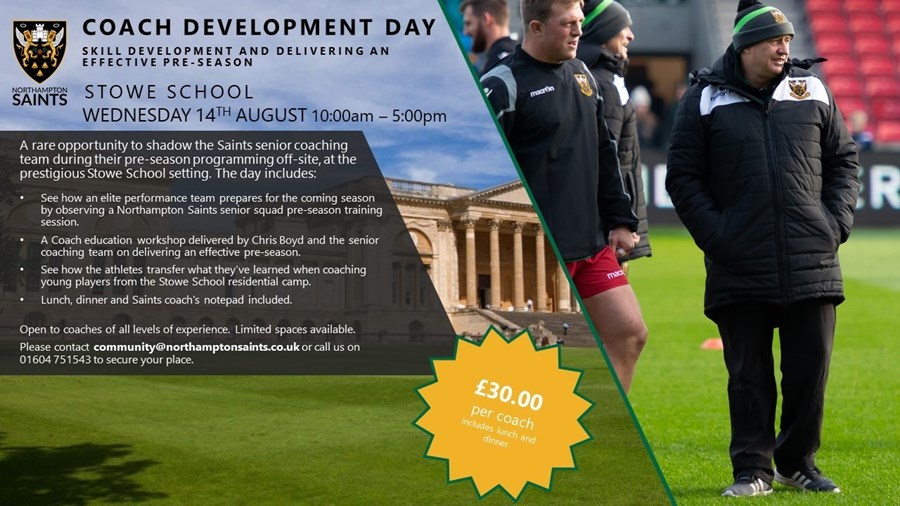 From Northampton Saints:
We are making contact with all clubs and coaches to inform them of a specialist rugby coach Education Workshop that the community team will be running on Wednesday 14th August with the Northampton Saints Senior coaching team, whilst we are delivering our residential rugby camp at Stowe School.
We will be joined at the prestigious Stowe school setting by the entire senior playing squad as well as Director of Rugby, Chris Boyd and the rest of the senior coaching team, who are offering the opportunity to get behind the scenes of a Northampton Saints pre-season training session followed by a coach education workshop delivered by Chris and his coaching team focussing on skill development and delivering an effective pre-season. We would like to invite all club coaches, whether they are senior, mini or junior coaches, to attend the day for just £30 (includes lunch, dinner and a Northampton Saints coaches notepad). The workshop will be catered to all levels of experience and age grades. Coaches can book individually, however if as a club you would like to send a group of 5 coaches, we will be able to provide a 6th place completely free.
The format of the day will be:
| | |
| --- | --- |
| Time | Activity |
| 0930-1000 | Arrival and introduction |
| 1000-1100 | Observe senior squad training session |
| 1100-1200 | Lunch (provided) |
| 1200-1315 | Observe player's coaching camp players |
| 1315-1400 | Tea & Coffee break |
| 1400-1600 | Coach Education Workshop with Chris Boyd and senior coaching team |
| 1600-1700 | Dinner |
| 1700 | Depart |
We do have a limited capacity for this workshop and so if you would like to reserve your space please contact us on 01604 751543 (ask for the community department) or alternatively email us at mariagrace@northamptonsaints.co.uk
Kind Regards,
The Community Team
Katharine Burrows​
Academy and Medical Administrator